So, I'm in love...with Project Runway. I think it may be a requirement of all designers/design students to be love with the show. Project Runway has made the move to both Lifetime and Los Angelas, but our favorite judges (Heidi Klum, Nina Garcia, and Michael Kors), our favorite mentor (Tim Gunn), and our favorite fabric store (Mood) are all there. The season kicked off with a red-carpet challenge...kind of unusual for the first challenge of the show, but I was pleasantly surprised, because I feel this really allows the true style of the designers to shine through and not be confounded by use of bizarre materials (but I do love these challenges too!).
Lindsey Lohan was a guest judge, probaby because she can't get any other work than the straight-to-tv movie, Labor Pains, which I couldn't suffer all the way through. She did have some interesting insights however and I was more impressed with her than I thought I would be.
Let's go through each of the styles one by one: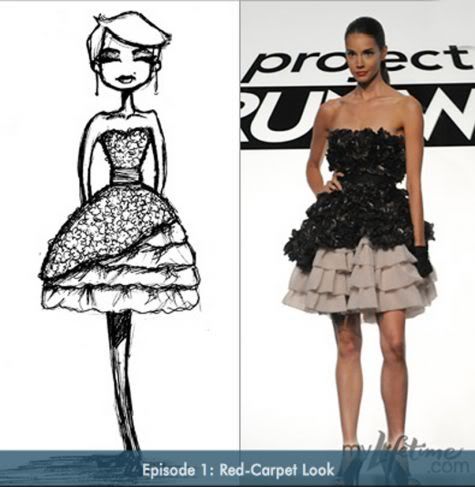 This week's winner was Christopher Straub. Though not my top pick, it was in my top three. This could've easily have become too bulky but it works. I'm kind of happy to see him win, because he has no formal design training, which just goes to show you that schooling isn't everything and talent can't be taught. In the episode he admitted that he is not totally up on all of his design terminology such as "godets" and "smocking".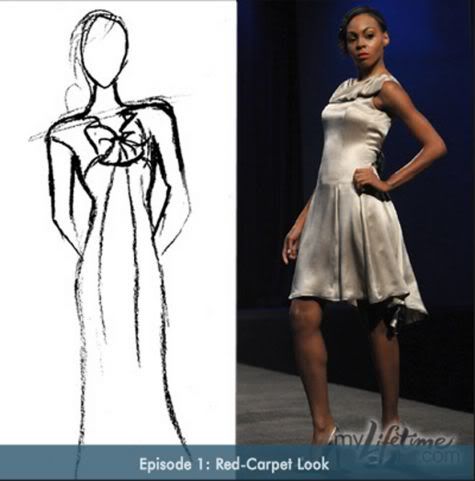 Shirin Aksari's satin dress left me unimpressed and confused as to whether or not the uneven hemline was intentional.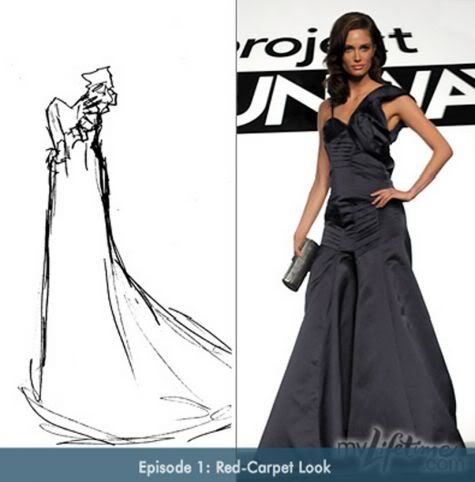 Ra'mon-Lawrence Coleman's red carpet look received second place, however I wasn't all that into it. The pleating just looked strange and the color was unfortunate.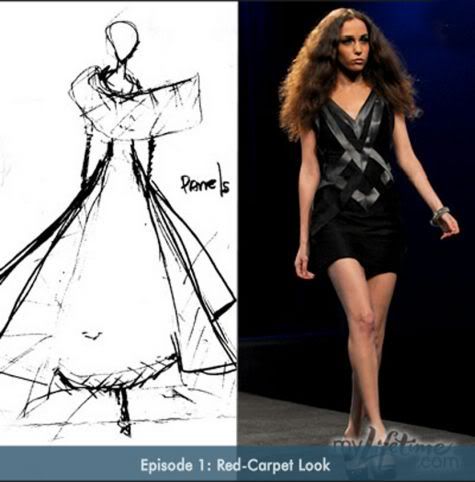 Nicholas Putvinski's design obviously looks nothing like his sketch. I feel mixed. I'm usually a fan of woven bias strips on dresses, but the angle and the silvery-gray color just reminds me of seat belts. Buckle up!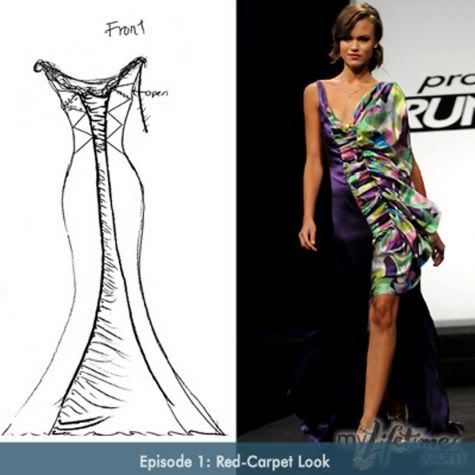 Qristyl Frazier's acid-trip collision of two different dresses. Hideous, however I like Frazier's feelings that it's not "plus-size" but "plus-sexy". As a plus-sized girl, we need more of that attitude in the fashion indistry. I hope her designs improve.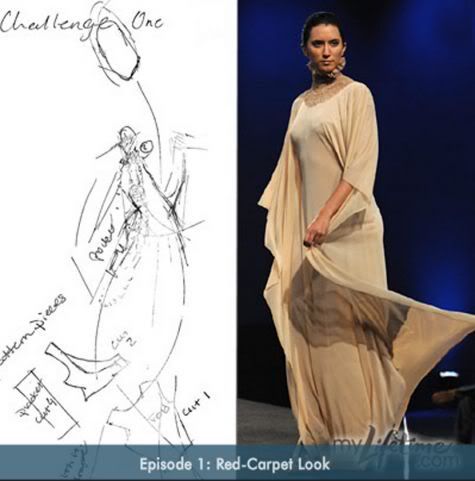 Mitchell Hall's sheer victorian, smocked caftan. I thought he would be the one to go home. I imagine a seventies, middle-aged housewife lying on the couch, popping bonbons, and watching soap operas when I look at it. A lining was sorely needed. I can understand some of the difficulties he had though, because it sounded like his model lied about her measurements. Not cool. He was literally sewing her into the dress at the last minute. If I really look at it though, I can kind of see Kirsten Dunst or Maggie Gyllenhall wearing this.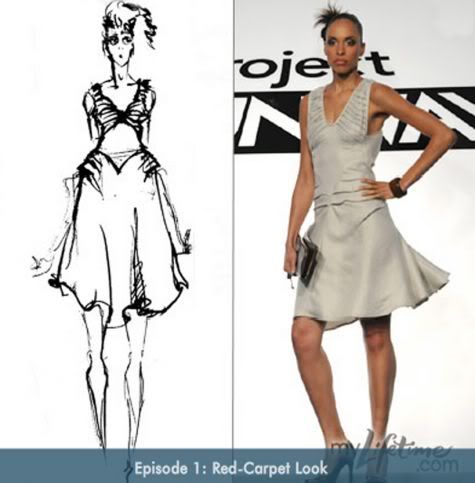 Malvin Vien's dress is non-descript with more strange pleating.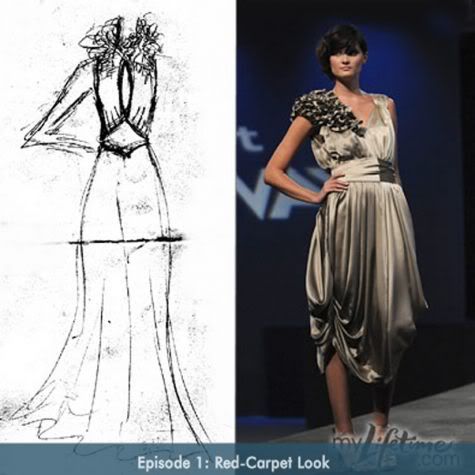 Louise Black's vintage-inspired two-toned dress was one of my favorites. Very classy and I love the drape.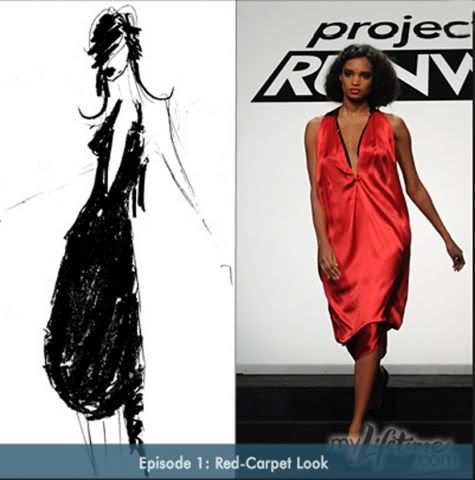 I can't quite understand why Johnny Sakalis' look was in the top three. It is very contemporary and creative, however, let's be honest...it is totally unflattering. Who could wear that? Johnny totally freaked under the pressure early in the episode but was able to pull it together after a pep talk from Tim Gunn. He kept mentioning the fact that he was a formal crystal meth addict. I'm glad that he was able to produce something though instead of giving up before he started.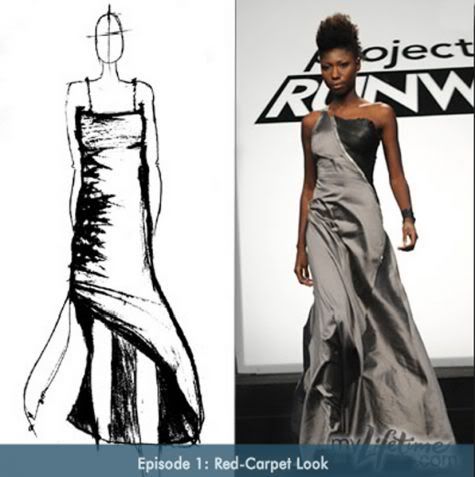 Logan Niettzel's two-tone gown was so-so, but I prefer the two-tone look of Louise Black's dress better.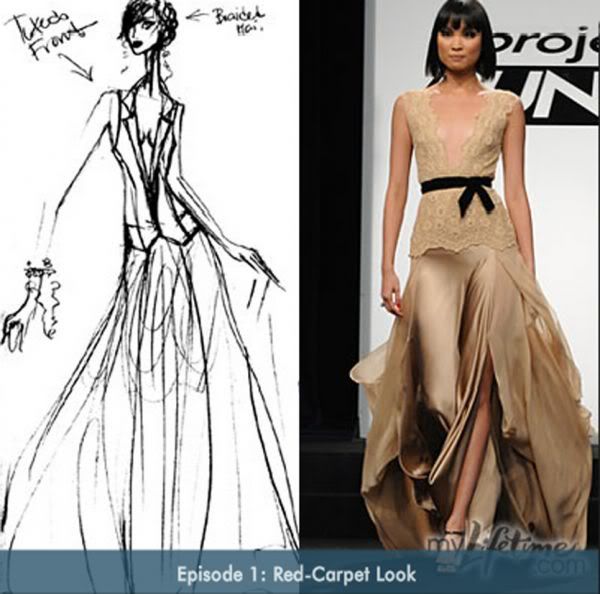 Irina Shabayeva's gown is GORGEOUS! It was very romantic with a bit of sexy appeal because of the slit in the skirt. This was my top pick. Why wasn't this in the top three?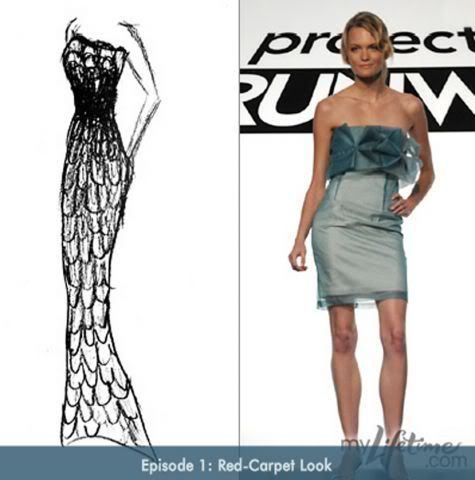 Gordana Gehlhausen's dress was interesting. I like the origami-effect but I don't feel it was styled correctly. I look forward to seeing more from her.

I like Epperson's gown, except for the crazy tulle at the bottom, It could've done without. I love the draped fabric around the neck though!
Disco-meets-Space Cadet-meets-Soccer Ball. Ari Fish's look was somewhat innovative but was ill-conceived and, I believe, poorly constructed. She was the first designer to be kicked off the show.